Breakfast with horses at Ol Donyo Sapuk
Posted on Thu December 10, 2020.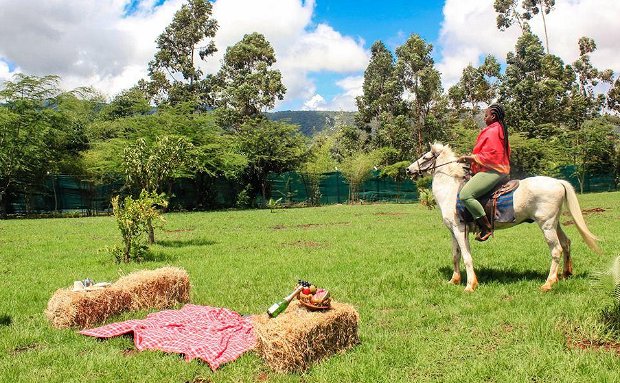 By WENDY WATTA- Business Daily Africa
Ol Donyo Sabuk is a little town located on the boundary of Kiambu and Machakos.
Boda boda motorists honk loudly as they speed past— leaving nothing but a thick cloud of dust in their wake.
Pedestrians and cattle jostle for space along the roads and you might even wonder how the makeshift petrol station you will fuel at is even operational, but perhaps all these add to its charm.
Only about two hours away from Nairobi, expansive pineapple farms sprawl on for acres and in the distance lies Mt. Kilimambogo, all begging to be explored by the curious wanderer.
Where to stay
Early Saturday morning, I found myself standing on the dewy lawns of Ol Donyo Sapuk Resort animatedly chatting up the executive chef as he picked fresh mangoes that would be used for breakfast later that morning.
Built to resemble an old English farmhouse, the resort offers quite the idyllic setting for either an active or unhurried countryside retreat.
The resort has a stable from which we hired two horses to go riding around the town, and they even joined us for a picnic on a separate morning.
Seeing as they grow a lot of their produce, you can also go wander around the farms, get insight on their agricultural projects and chat up the farmers.
Hiking Mt Kilimambogo
If you are not up for the hike, you can drive up to the summit for a picnic. I was, however, itching for a thrilling, high-altitude excursion and therefore had the resort pair me up with their experienced resident guide, Yemen.
He regaled me with interesting tales about the mountain, the buffaloes after which it is named, the town as well as its people and their history.
Located within Ol Donyo Sabuk National Park, it was a 9.2 kilometres hike to the top which, given your level of physical fitness, is relatively easy and should take about two hours to the top.
Getting to the observation deck, I was greeted by perhaps the most striking spectacle that this corner of Kenya has to offer.
Viewing the vast town and its surroundings from this singular vantage point was quite the surreal experience and for a moment, I felt every bit like toddler gleefully staring down at a magnificent toy set dotted with tiny little buildings, farms, dams and more.
After a quick stop at MacMillan's burial site, we made it to the summit which was actually a bit of an anticlimax as the view is marred by thick vegetation which can however not be cleared since most of the plant species are endangered.
The thrill of having summited a mountain is however what makes it all worth it, since if you can conquer a trail that seemed almost impossible to hike, you can overcome any challenge that life throws your way.
It started pouring heavily on our way down and the resultant muddy slippery red soil and loosened rocks made the descent a lot more gruesome than it should have been.
It was like being a participant in an episode of Running Wild with Bear Grylls in usual daring and borderline dangerous flair, only without the dramatic soundtrack. Never hike a mountain in the rainy season, especially not as an amateur.
Tour MacMillan's Castle
According to my guide Yemen, Lord William Macmillan was a heavyset, seven foot tall, decorated American soldier who got knighted by the King of England.
The McMillan Memorial Library which was named after him but he was a big game hunter and it is whispered that he had ambitions of owning Mt Kilimambogo upon which he was eventually laid to rest with his wife and dog.
In its heyday, the 32-roomed castle notably hosted former American president Theodore Roosevelt and former British Prime Minister Winston Churchill.
There is a dark underground bunker where prisoners were kept, underground tunnels where secret meetings were held during the wartime, and more.